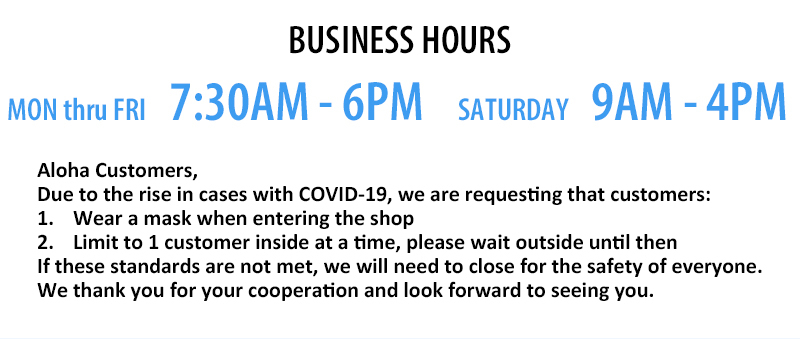 | | |
| --- | --- |
| ALOHA DOG new safety rule | How we clean |
| | |

Doggies Daycare, Boarding & Grooming ALOHA DOG

Aloha Dog is a great place for busy owners to bring their dogs for daycare, boarding, and grooming. Our cage-free daycare and boarding will guarantee a stress-free environment for your pup to play and socialize. Our small, indoor facility allows each dog to receive individual attention, love, and care by our specially trained staff. From basic grooming to full grooming, our experienced groomers only use high quality products and will find the perfect style for your dog.


5/22/2020

Aloha Dog updated business hours beginning May 26, 2020.

Monday thru Friday 7:30am-6pm
Saturday 9am-4pm

4/21/2020

Aloha dog adjusted business hours Monday thru Friday 8am-5:30pm beginning April 22, 2020

4/5/2020

Aloha Customers,
Due to the rise in cases with COVID-19, we are requesting that customers:
1. Wear a mask when entering the shop
2. Limit to 1 customer inside at a time, please wait outside until then
If these standards are not met, we will need to close for the safety of everyone. We thank you for your cooperation and look forward to seeing you.

3/27/2020

Temporary business hours beginning March 28, 2020.

Monday thru Friday 7:30am-6pm
Saturday, Sunday Closed

3/23/2020

Temporary business hours beginning March 24, 2020.
Monday thru Friday 7:30am-6pm
Saturday 9am-5pm
Sunday Closed

3/18/2020

Aloha Dog is very appreciative for all of your continual support through these rough times but due to these circumstances we will be closed on Sundays beginning March 29th.

Business hours will remain the same Monday thru Saturday unless something happens out of our control.

We care for everyone's health & safety so we will practice social distancing but we know pups still need their play time & grooming done. Feel free to stop by for an hour or two to let us help you get the the important things done (grocery shopping, stocking up, etc.) in preparation for what's to come.

Aloha Dog
President - Manami Ato
Vice President - Natsuko Muranaka & Yayoi Matsuzawa
General Manager - Anna Rios

New business hours beginning March 29, 2020.
Monday thru Friday 7:15am-7pm
Saturday 9am-6pm
Sunday Closed