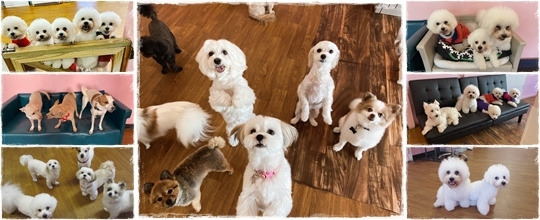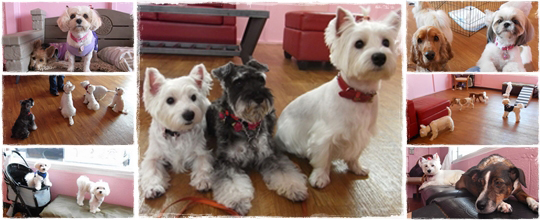 $8 an hour - 2 hour minimum
| | |
| --- | --- |
| Daycare hours | : Mon-Fri 7:30am - 7:00pm |
Under 20 lbs
Half day (4 hours) : $25
Full day : $35
$8 an hour - 2 hour minimum
| | |
| --- | --- |
| Daycare hours | : Mon-Fri 7:15am - 7:00pm / Sat, Sun, Holiday 9:00am - 6:00pm |
Under 20 lbs
Half day (4 hours) : $25
Full day : $35

Half Day ticket

Full Day ticket

Under 20 lbs
10-Half Day : $225 (4 hrs = half day)
Under 20 lbs
10-Day : $315 ($31.5/day)
20-Day : $595 ($29.75/day)


      * Passes expire 120 days after first use.


Monthly : $500
No Exceptions can be made to this policy.
Male dogs over 7 months old must be NEUTERED. We do not accept female dogs on heat.
Must pass the evaluation interview. A reservation needs to be made for the evaluation interview.
Pre-paid packages are non-refundable and expire 120 days after first use. This is non-negotiable and all fees are due at the time of pick up.
Vaccination record : DHLPP (D=Distemper, H=Infectious Canine Hepatitis, L=Leptospirosis, P=Parainfluenza, P=Parvovirus) OR EQUIVALENT. Bordetella (kennel cough) is required within 12 months of visit. It is the owner's responsibility to update your dog's vaccination record. Please make sure to turn it in before it expires.
Monthly flea/tick/heart worm prevention required.
The dog must always wear a collar or a harness with a leash attached when coming to the daycare.
There will be an additional charge $5 a day per dog, for any medications, ointments, eye drops etc. that your dog may need during boarding at ALOHA DOG.
Any health issues that your dog develops (including bite wounds) will be treated or the first available Veterinarian. If for any reason your dog needs veterinary care during daycare, we charge a $30 transportation fee within the Kaka'ako district and $100 for further areas such as Pearl city etc.
If in any case the owner(s) is not able to pick up their dog, it is necessary for the owner(s) to inform us ahead of time the name of the person who will be in charge of picking up. They must show a valid ID at the time of pick up.
If in any case you do not pick up your dog during business hours, your dog will board with our boarding staff, therefore, you are liable for the boarding fee of $100 per night.
Late pick up fee after closing is a $1 for every minute you are late. Please notify us during business hours that you will be arriving late.
We have the right to refuse Daycare for any dog(s) depending on the situation.