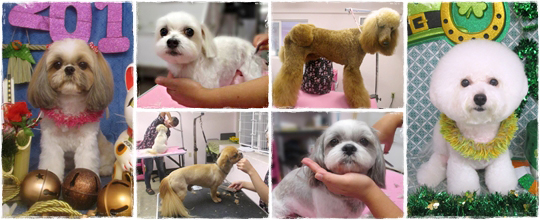 Basic Grooming
shampoo, nail cut, ear care, anal gland, bottom of paws trim, stomach shave, anal trim

Full Grooming
Basic + Hair Cut

All Breed Grooming Price
Prices will differ depending on the size and breed.
Additional charges for tangled hair or other special grooming requests.
10% off for the next grooming if you book the next appointment during check out.
Get $20 off for every ten groomings.
20% off basic & full grooming for all new customers.
Fleas & ticks treatment is required if there are any fleas or ticks are found on your dog. There will be extra $10.00 + tax with the Basic or Full grooming package. We will do our best to contact the owner before the treatment but if the owner can't be reached, treatment will be done before the grooming.
We may not be able groom dogs with skin problems. Depending on the condition grooming can make the skin condition worse. Please inform us if there is any problem before the grooming. If we find any problem during the grooming we may stop the grooming and may not be able to complete the service.
Removing/brushing under coat and matted fur is hard on your dogs skin and may cause redness or pain. We may refuse to untangle the extreme matted fur and recommend to shave instead.
If you are not satisfied with the grooming we will fix it for free. You must contact us within two days after the grooming.
Please call us at least a day before to cancel your appointment. We won't be able to take your future reservation if you cancel your appointment twice in a row on the appointment day. Last minute cancelation can cause inconvenience to other customers and to ALOHA DOG.